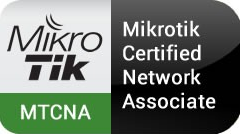 Ace Training and Development Centre is a MikroTik Training Centre (MTC) conducting intensive public and private training sessions and certification tests according to the official MikroTik Training Outline. MTCNA course will be offered again 13th of November 2018 in Limassol.
MTCNA is designed as an introductory course to the MkroTik RouterOS software and mandatory to follow rest of other engineering level classes. Course includes four days of first-hand knowledge and the ability to become a fully certified MikrotiTik Networking Associate. Those who complete the course, lab, and pass an examination will receive full certification and the right to bear the "MTCNA" emblem on their website and use associated marketing materials. Space is limited so sign-up today to secure a seat in this highly-demanded course.
Introduction
---
The course starts with the basics of using MikroTik and works its way through basic routing, switching, bridging, wireless, network management, firewalls, quality of service and tunnels.
The class is taught in a lab environment, with a lab completed after each module is covered, to reinforce the concepts covered. By the end of the course, you will be familiar with RouterOS software and RouterBOARD products and be able to connect customers to the internet. You will also be able to configure, manage, do basic troubleshooting of a MikroTik router and provide basic services to customers.
The course has a 28-hour duration and includes the following topics as set by MikroTik:
Seminar Content
---
The full outline of everything that is covered is dictated by MikroTik and is frequently changed to keep it up to date with the latest features of RouterOS. The latest version of this outline is located at MikroTik website.
Who should attend
---
Information Technology (IT), Network Technicians, Computer Scientists, Computer Engineers, Network Engineers, Computer Electricians.
Seminar Details
---
Dates: 13 – 16 November 2018, Tuesday to Friday
Time: 09:00 – 17:00
Place: PLATO COLLEGE
Duration: 28 hours
Language: English
Cost: 776 euro
HRDA subsidy eligible candidates cost: 300 euro (plus VAT on 776 euro)