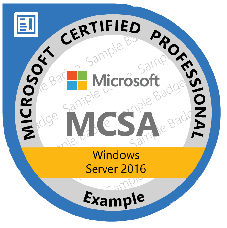 Ace Training and Development Centre is going to run the MCSA course of MICROSOFT in 2019 (next course starts February), since it is the best way for you to get prepared for a successful career in networking or systems administrator.
Earning an MCSA certification: Windows Server 2016 qualifies you for a position as a network or computer systems administrator or as a computer network specialist, and it is the first step on your path to becoming a Microsoft Certified Solutions Expert (MCSE).
Introduction
---
The new course MCSA: Windows Server 2016 certification is earned by taking and passing three exams. The preparation courses for these exams are listed below. Individuals who already hold MCSA certification will be able to upgrade to the new 2016 certification through a single upgrade exam (upgrading your skills to MCSA: Windows Server 2016).
Courses:
MCSA 1 – Installation, Storage and Compute with Windows Server 2016
MCSA 2 – Networking with Windows Server 2016
MCSA 3 – Identity with Windows Server 2016

Upgrading Course:
Upgrading your Skills to MCSA: Windows Server 2016
Each course has a 39-hour duration and meetings are spread within a month.
Seminar Content
---
MCSA 1: This course will enable student to gain knowledge about storage and compute features in Windows Server 2016. Topics include installing, upgrading and migrating servers and workloads, configuring local storage, implementing enterprise storage solutions, implementing storage spaces and data deduplication, installing and confuguring Hyper-V and virtual machines, deploying and managing Windoes and Hyper-V containers, Overview of high availability and disaster recovery, Implementing failover clustering, Implementing failover clustering with Windows Server 2016 Hyper-V, Implementing Network Load Balancing, Creating and managing deployment images and Managing, monitoring and maintaining virtual machine installations.
MCSA 2: This course will provide the necessary networking skills required to deploy and support Windows Server 2016. Topics include Planning and implementing an IPv4 network, Implementing DHCP, Implementing IPv6, Implementing DNS, Implementing and managing IPAM, Remote access in Windows Server 2016, Implementing Direct Access, Implementing VPNs, Implementing networking for branch offices, configuring advanced networking features and Implementing Software Defined Networking.
MCSA 3: This course will provide knowledge on how to deploy and configure Active Directory Domain Services (AD DS) in a distributed environment, how to implement group policy or how to perform backup and restore and how to monitor and troubleshoot active directory. Topics include Installing and configuring domain controllers, Managing objects in AD DS, Advanced AD DS infrastructure management, Implementing and administering AD DS sites and replication, Implementing group policy, Managing user setting with group policy, Securing Active Directory Domain Services, Deploying and managing AD CS, Deploying and managing certificates, Implementing and administering AD FS, Implementing and administering AD RMS, Implementing AD DS synchronization with Microsoft Azure AD and Monitoring, managing and recovering AD DS.
MCSA upgrading: This course provides updates to students' existing Windows Server 2016 knowledge and skills. Topics include Installing and configuring windows server 2016, Overview of storage in Window Server 2016, Implementing directory Services, Implementing AD FS, Implementing network services, Implementing Hyper-V, Configuring advanced networking features, Implementing software defined networking, Implementing remote access, Implementing direct access, Deploying and managing windows and hyper-V containers, Implementing failover clustering and Implementing failover clustering with windows server 2016 hyper-V.
Who should attend
---
Information Technology (I.T), Network Technicians, Computer Scientists, Computer Engineers, Network Engineers, Computer Electricians or any people rather new to IT who are pursuing a career as Network Specialists, Network Administrators, and Network Support Engineers.
Seminar Details
---
Dates: 14/03/2019 – 29/07/2019 every Monday and Thursday
Time: 18:00 – 21:00
Place: Limassol
Duration: 39 hours each course (total 117 hours for all 3 courses)
Language: English and Greek
Cost: 2487 euro (HRDA subsidy eligible candidates only pay 498 euro) plus VAT
Special discount for non-subsidy eligible candidates
Dates: 02/04/2019 – 09/07/2019, 03/09/2019 – 18/10/2019 every Tuesday and Friday
Time: 18:00 – 21:00
Place: Nicosia
Duration: 39 hours each course (total 117 hours for all 3 courses)
Language: English and Greek
Cost: 2487 euro (HRDA subsidy eligible candidates only pay 498 euro) plus VAT
Special discount for non-subsidy eligible candidates